STRONGER TOGETHER-CorpEvents New England certified Installation and Dismantle Resources for Skyline Exhibits.
WESTBOROUGH, MA— Skyline Northeast and Corporate Events New England (CorpEvents) announces their official alliance leveraging the strengths of both companies. Together they have over 36 years of experience serving the New England area convention circuit.  The alliance includes the renewed certification as an official Skyline support company. This certification allows CorpEvents to be the labor resource for Skyline Northeast in the New England area.
The alliance makes it more cost effective for corporations exhibiting at events in Boston and New England. Equipped with a list of 24 permanent employees who are well qualified professional union laborers, CorpEvents is able to handle any size exhibit in a timely manner.
"Skyline Northeast is very excited about this official relationship given the talents and experience of the CorpEvents crew," says Joel Long, President of Skyline Northeast.  "Our relationship has been on-going for over a year and this certification is well deserved."
Robert Dobinski, President of CorpEvents couldn't be more pleased with the new alliance stating, "this relationship is very strategic and reflects the growth of the Boston area convention business and the recent announcement of the upcoming expansion of the Boston Convention and Exhibition Center (BCEC)."  Work on the BCEC expansion begins in the spring of 2015 and should be completed by late 2019 with the goal of elevating Boston to one of the top convention cities in the United States, according to Dobinski.
About CorpEvents New England
CorpEvents is Boston's oldest independent installation & dismantle company in operation since 1985.  Offering professionally trained Union personnel with an acute awareness to the importance of trade show events.
CorpEvents provides a large array of A/V rentals, special furniture along with custom carpet solutions, 16,000 sq. ft. of advance warehouse facilities allows for convenient transport and freight services to Boston and other New England States including up-state New York.
Additional general contractor services includes pipe and drape, furniture and all services for any size events. This commands a unique niche in Boston area.
---

This article can also be found on Exhibitor Online as well as Exhibit City News!
Exhibitor Online:
http://exhibitoronline.com/news/article.asp?ID=14258&email=tmitchell@exhibitormagazine.com&s=3160Ncb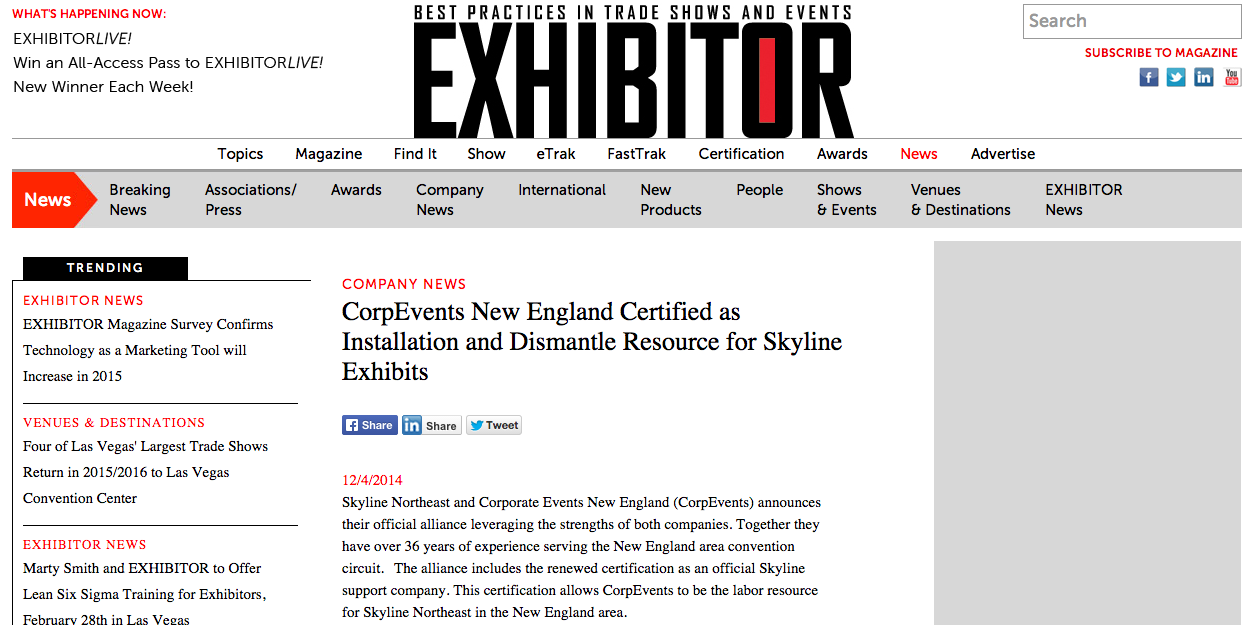 ---
Exhibit City News:
http://exhibitcitynews.com/corpevents-new-england-certified-id-resources-skyline-exhibits/